We're Pro-Type Printing.
We help companies save money and knock out printing projects. We know our stuff and we've got your back.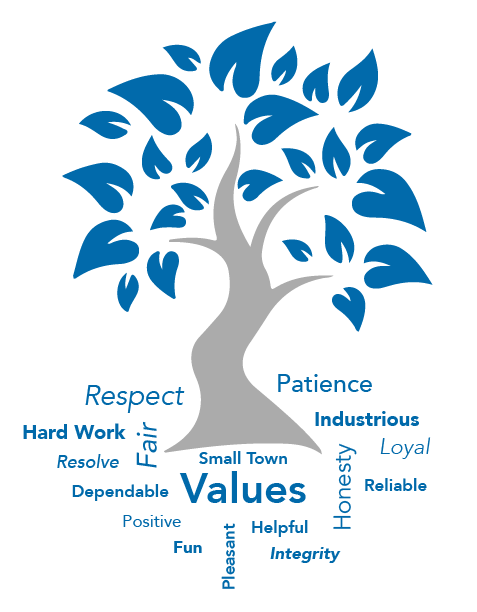 From deep, heartland roots, we're branching out to serve today's businesses.
To grow a strong business on the Illinois prairie, you start with the seeds of small town values like honesty, integrity and trust. Our businesses grow large and strong together through mutual respect, fair dealing and industrious hard work.
Since we started as a one-woman business, founded by owner Robin Niewold back in 1981, our company has built a solid foundation guided by these principles.
Robin personally instilled Midwest ethics such as a positive outlook, pride in workmanship, and even a sense of fun. From the first job printed in her family's farmhouse basement to the modern enterprise we run today, we've kept hometown values at the heart of everything we do.
Tap into our 35 plus years of experience to explore a wide and branching decision tree of smart, high impact solutions. You'll find the quality you've been searching for at a price that won't "hollow out" your budget.
Reaching out to our Illinois neighbors…and also nationwide.
Today, Pro-Type Printing employs a full team of hardworking professionals. Located in Paxton, Illinois, we're within easy service of Bloomington-Normal, Champaign, Rantoul and range of other Central Illinois communities. A majority of our printing solutions can be distributed nationwide.
Let us be your guide to a wide range of printing technologies.
You'll find printing services to cover all your printing and marketing needs. We cover the basics like business cards, letterhead, envelopes, brochures, flyers and posters. We recently upgraded equipment to bring you great looking banners and labels along with window, wall and vehicle graphics. Plus we can produce specialized forms such as laboratory mount sheets, business forms, school bus inspection books, and even custom cookbooks for fundraising and gifts! If you have an idea you'd like us to look into, just ask!
Building trust through person-to-person service.
Great service is more than online forms and voicemail. At Pro-Type, our experienced staff is always there to listen, answer questions and make sure your needs are met. Drop by or contact us today.  Rooted in hometown values — growing tall and strong with heartland customers. Trust your business to Pro-Type Printing:  Real people. Real results.