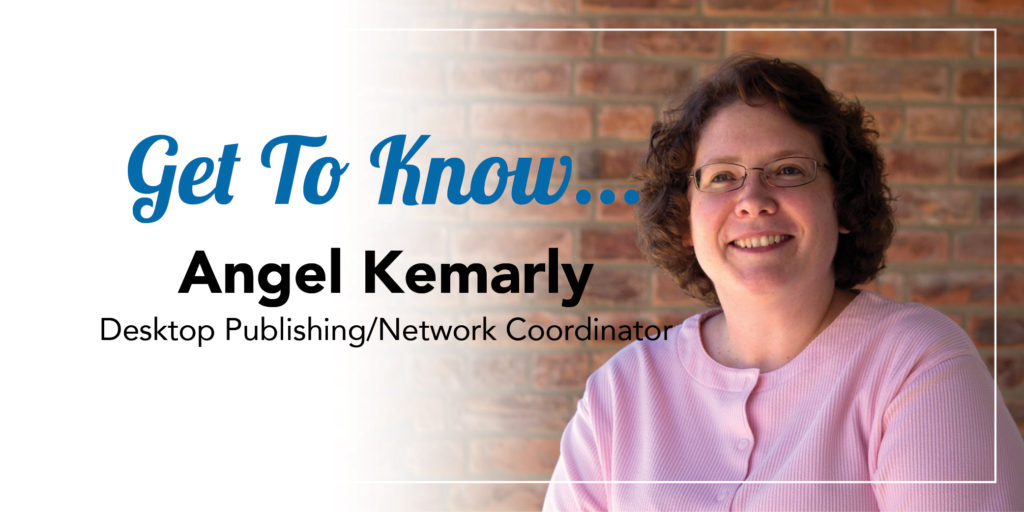 Angel joined Pro-Type's staff in 2002 as a graphic designer. She is our Desktop Publishing/Network Coordinator. Her main job is to coordinate, design and prepare files for print but she also keeps our computers, servers, and software programs up to date and running. Angel is a pro at troubleshooting difficult files, so chances are if you have a problem or need help she will most likely have a solution.
 What do you do in your free time?
I'm a concert junkie! A good portion of my disposable income goes to pay for this habit. I don't really have a favorite artist, in fact I listen to a wide range of genre's. I've seen classical vocalists such as El Divo to the legendary heavy metal artists Ozzy Osbourne and Black Sabbath. This year I will be enjoying the musical talents of Shania Twain, Kenny Chesney, Thomas Rhett, Reba McEntire, Elton John and it's only March!
What is something on your bucket list?
I would like to vacation in Hawaii someday.
 What is your most overused word/phrase?
Not a nice one, I'm ashamed to admit!
 What is your favorite meal at your favorite restaurant?
Currently I can't seem to pass up a Grilled Chicken Caesar Salad from Panera.
 What is something most people don't know about you?
I have an Associate's Degree in Accounting. When I graduated in 1992 I accepted a job in the Prepress Department at Uarco, a nationwide printing company in Watseka. It was my intent to transfer into their Accounting Department when an opening became available. Uarco was in the process of converting to computerized printing and needed "Graphic Designers/Prepress Technicians." I was trained how to set type the "old way" and using the new computerized technology. They sent me to school to learn desktop publishing software, and to other locations to learn additional printing capabilities/equipment. I enjoyed this job and never made it to the Accounting Department. In 2000 Uarco/Standard Register closed their Watseka location which led me to Pro-Type Printing.